Aesthetics is a very important part of Vampyre law. But it is often a misunderstood part of the Law.
So I thought I'd try and unpack it for you in a blog.

I was giving advice to a Nadja about something which I can't remember. But I ended it by saying "Become a Fantasy."
Aesthetics are so integral to the Vampyre way that it fequently becomes Vampyre LAW!

You will be hard-pressed to find a Vampyre event that does not enforce an Aesthetic Dress-Code.
Generally you'll see it advertised that the Theme they want to inspire leans more towards Victorian and Edwardian styles.
But you can just arrive Dressed in Black and be given Entry.

But just dressed in Black or dressed in a HotTopic mallgoth style attire will make you feel very… under-dressed.

Bad Aesthetics are sinful, and Offensive to the Vampyre.

But what I want to say here is that When people think of Aesthetics, They may often just be thinking about Beauty and Fashion Standards. and We don't mean Be Beautiful, Or Look Expensive. You might as well Come Naked!!
In the Vampyre World, Aesthetics just means:
"Be a Show-Stopper!"
"Be a Spectacle!"
"Make yourself into ART!!!"
"Dress to REALLY Impress!"
"Dress like you are the Showrunner!"
"Be Impressive and Other Worldly"
"Always have a Great Entrance."
"Turn Heads!"
"LOOK-FUCKING-COOL!!!!!"

"DARE-To Be Ugly, and Dare to be Extraordinary."

"Go Big! Or Go Home!"
Aesthetics I believe emerged as a result of certain philosophical discoveries made in the Goth and Punk-rock, Shock-Rock, Industrial and Other Metal and Alternative Scenes.

That when you aim to be Ugly when you could be beautiful, you transcend the realms of Beautiful and Ugly and just become infinitely more interesting. So regardless of what you look like, you'll always be desirable if you can be impressive and creative with how you use yourself as a canvas.

Which is why Drag-Queens, and Costume Designers, and Makeup Artists, and CLUB-KIDS (in all caps)
Gain allot of praise within the community. Androgyny is also a very big deal. we love a good Gender Bender.

But if you Lack the creativity to be Extraordinary in your presentation. The least you can do is look like a time traveler with good fashion tastes. So they will recommend you Dress Victorian, Or Edwardian, which lends itself to the Dita Von-Tease 1940s-50s style of dress.

You will find that Among females the Gypsy, Belly-Dancing, or Berlesque Styles of Nakedness are very very very popular. so you shouldn't surprised to see naked women with Nipple Tassels at our events. Or actually naked covered in Stage Blood and Body Paint. There is a level of freedom that you can express in Vampyre Spaces. and you should feel safe, as Vampyres will turn on anyone who Sexually Assaults or Harasses the Women in our community.

That shit will not be tolerated by our kind.

Real Monsters, Cannibalize other Monsters.
Just like how Dexter only kills other Serial Killers.
A DISCLAIMER:
In regards to the Time-Traveler fashion thing. Don't use that as an excuse to arrive in Civil War Confederate attire or Dressed as a Nazi decked out in Swastika's and other controversial and offensive symbols of Racism.

You must always remember the LAW of DIVERSITY!
And consider the feelings of your Vampyre brethren who are your SPIRITUAL-FAMILY
Your Spiritual BREED!

Racism is a recent Human belief system, and it must be left outside of the Vampyre world.
We are all children of the Void, and our human bodies, these husks of flesh and meat, are only a temporary vessel for us to experience the world. No flesh is better than any other. And "Race" is a warped social construct of the Human world, that needs to be dissolved and eradicated.

When you come to the Vampyre Havens, you must shed the Human Veil and enter the Vampyre Identity, everyone you see and interact with regardless of What Language they speak, Their physical form, their religious affiliations, or their sexual orientation or skin color. You must see yourself reflected within them. as you are all the same spirit of the great Abyss. Our Dark Mother, the Dragon of the Void.
CHANGE THE NARRATIVE:
With that being said, it doesn't mean that you can't appreciate the Aesthetics of Hated and controversial military styles of historical politics. So long as you change the narrative of those style and repurpose the look. Marilyn Manson and the Gothic/Deathrock community really appreciate the Aesthetics of Nazi Attire, while also strongly disagreeing with the Fascist ideology that produced the Aesthetic. Often redesigning the military gear for more Gothic Aesthetics of Black Fabrics and Patent Leather. and the Symbols replaced with Band Logos, or something else that isn't meant to be racially or politically offensive.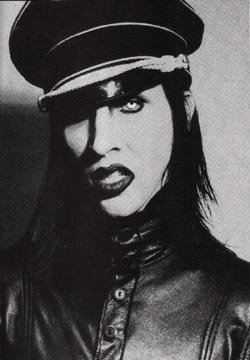 Although this is a great tool for Shock Value and stirring up controversy to share a new message.
Those outside of the community and even some within it (especially in today's politicized environment of cancel culture) might not get the new narrative of your style and are likely to just attack you and your character for supporting propaganda that you might not even agree with.
And here we thought we were done with that Satanic Panic hive-mind reactionary style of performative outrage… That we experienced in our youths during the 80s, 90s and early 2000s when Marilyn Manson and the Shock Rock community as well as the Hip-Hop community had to fight a war against censorship in media.

They are the reason you can say bitch and shit, and fuck on tv and the radio now. As well as twerk in music videos too.

Although I agree with many of the sentiments of cancel culture. I don't always agree with their methods of executing their outrage.
Its always attack first, ask questions later. and even then there aren't any real questions, but a method of berated Accusatory Charges against anyone who even slightly expresses a different perspective to their own world view and belief structure.

Cancel Culture is the modern day witch-hunt.

and its ruining Media, and Entertainment, and Satire Comedy. and WE NEED!!!! THOSE AVENUES OF EXPRESSION!!! TO REMAIN OPEN ENDED!!!

You can't enter the realms of Magick, if you are incredibly polarized like that.
Because it means that you are not disciplined enough to navigate uncomfortable spaces, experiences, feelings, thoughts, or presences. And if you can't be disciplined in temperance and self-controled in uncomfortable situations… it means that you can easily be controlled and manipulated by trigger words, buzz-words, propaganda, and pretty much any suggestion that comes your way.

You need to develop a strong sense of discernment. So you can navigate these very complex things with a very strong grasp on who you are, what your are feeling, how you are being affected, and what is affecting you. Investigate and discover the root of the problem and treat or fix that issue. Solve problems by fixing them…. Not by killing things, because thats what the Conolialists did, everytime they had a problem.

They wanted land that was occupied by indigenous people so they killed those people or drove them off, so they can take it.
Wolves were eating their sheep so they Hunted them to NEAR-Extinction, and destabilized the ecosystem as a result.

Because the wolves played a very important role, in keeping deer populations moving to prevent overgrazing and killing the land.

You can't just kill something that you view as problematic, because doing so is only a temporary solution to a very complicated problem that has deeper roots.

You have to be open and willing to engage in uncomfortable conversations. and not be afraid to listen to idea's and perspectives that differ from your own, and that are hard to hear. Because the only way to cure ignorance from this world, is through educating the ignorant so that they can learn why their views and perspectives and beliefs and behaviors are problematic. and you can expose them to the real root of the problem of those beliefs. so that you can give them a real chance to reconsider their stance.

Because attacking someone on their beliefs, only causes them to double down on those beliefs as an unconscious defense trigger.

You can't just throw facts at ignorant people. you have to be more delicate, when feeding them information… not by handfuls, not by spoonfuls. but by crumbs.

Lead them crumb by crumb to nugget to nugget, to the main feast. Gently helping them develop a craving for more and bigger doses of the truth. and by the time they arrive at the table, they'll no longer hold the beliefs they once held. They'll be illuminated by the facts, and the truth. and their whole world view will be turned over. and they'll see and experience everything with fresh eyes.
THE UNFORESEEN:

Every decision or choice we make in life to solve a problem can often result in creating more problems as a result of Draconian intervention. So I'll share with you some examples of how treating a problem by demonization, or violence can lead to the issues escalating into even worst conclusions.

WHY THE LAW CAN'T KILL, RAPISTS, PEDOPHILES, OR KIDNAPPERS: Its because if these crimes are given a death sentence by the Law, it gives criminals more incentive to kill their victims rather than letting them live after the assault.
Its a sad reality, but everytime they've tried a death sentence for these crimes throughout history across the globe, the mortality rate of sexual assault victims spiked. and it became less of a survivable crime. So to ensure that we have a better chance at finding these disgusting criminals… we have to ensure that victims are more likely to survive an attack so they can help identify the culprits.

SENSATIONALIZE-ATION of Serial Killers: Often lead to Copy-Cat-Killers. There are just too many people out there who will do anything for attention, and if they can't be famous, they'll settle for Infamous. Which is why you don't hear too many Sensationalized stories about serial killers now, like we used to in the Days of Charles Manson, Ted Bundy, Jeffrey Dahmer, and Richard Ramirez etc. (Sometimes you have to remember that there's no such thing as Bad-Publicity, there is only publicity.)

GOOD INTENTIONS CAN ALSO HAVE BAD REPERCUSSIONS:
Sometimes you'll see on the internet how folks go into homeless areas and surprise a homeless person with a huge wad of cash, or expensive sneakers or jewelry…. And you get this feel good sensation from watching that, and it restores your faith in humanity knowing there are good people in the world, doing nice things for helpless people. What you don't hear about too often, is that Homeless people are often the target of violent crimes and robberies because they are viewed as forgettable's in civilized society. Their lives aren't worth much because they don't contribute to the system. Therefore, they are killed and abused with impunity all across the so-called "civilized world". So within 24 hours of you giving that homeless person those very generous and expensive gifts, they have more than likely been painted with a target for a violent crime.

The same is true when you sponsor disenfranchised children in other country's by sending them shoes and tshirts and other items. They become targets for opportunistic members of organized crime.

I think the best thing we can do for disenfranchised people is provide them with education in trade-skills so that they can better provide themselves and their communities with what they need… By what they can create with their own hands, using whats already available around them. Just like how the Nairobi Kenyans started a trade in making Sandals out of Used Car Tires. Thats something that can only be made possible with some basic know-how-skills. Providing children and families from every community with Trade Skills in craftsmanship and other talents, will provide those communities with better opportunities to use human ingenuity to flip their situation around.


JUST AN IDEA FOR A: LAW OF VENGEANCE
In regards to how to deal with Heinous Criminals… If it were up to me, I'd set up a system where we'd have a Vengeance Claus.
The Vengeance Claus would allow victims of a heinous crime to get the legal permission and license to hunt and kill their enemy for a small window of time like 3 months or so. And if they don't have the guts to kill their Rapist, they can hire a bounty hunter to do the job for them. And it will only be permissible if it was approved by the courts that there was in deed an injustice done. and also so long as the only person you kill or hurt in the hunt, is in fact, The man or woman or individuals you have registered as your Assaulter's.

and also I think the community should also be present and made aware of these registrations, so they can also have a say in approving or disapproving the registry. But they don't get a say if the criminal is a member of their family due to personal bias on the matter.

The law will protect the Victim who made the registry to gain their Permit and License to Kill their assaulter. and the families of the criminal will not be permitted to in turn seek retaliation, for the murder of the criminal.

The reason I like this idea, is because it takes the responsibility out of the hands of the government. and allows the public citizens to handle the problem themselves. Its a law which allows for temporary vigilantism. And it gives you the citizen and victim a license to kill your offender.

In the case that the criminal was a pedophile and you're child was the victim. It would be allowed for each member of the family of that child to put in a registry for a permit and license to hunt and kill the pedophile who victimized their child or children.

Its just an idea. There might be some flaws with it that I'm not seeing. But I think the option for such a process, should always be made available. because I am not in support of Governments who hold a total monopoly on violence.

I am one who believes that if the government turns against its people, that the people are entirely justified in defending themselves from the Government and those who enforce its laws. Also, that Enforcers of the Law should Also be effected by the Law and have absolutely NO-IMMUNITY!!!

If a Cop commits a Crime, they must Serve the time.
You are not above the rest of the citizens.

and the same goes for politicians.