Lilith is a very popular figure today in pop culture due to the revised narrative of the feminist movement, who sought to embrace Lilith as a true Feminist Icon. Changing her status from a Demon to a Goddess. To which I personally feel is a very big mistake and hopefully by sharing her actual history and origins you'll understand why.
The Revised Narrative of Lilith:
In the Garden of Eden the Elohim decided to create people in their own image as him and her, male and female. and thus was born Adam and Lilith of the same earth as equals in Paradise. Then the day came where Adam and Lilith were to consummate their marriage. Adam insisted that Lilith take the submissive position in sex, but Lilith refused and argued that he should be the one to take the submissive role in sex.

Adam and Lilith could not come to an agreement and Adam complained to their creator, who agreed with Adam that Lilith should take the submissive role in the consummation of their marriage. Lilith remained disobedient, refusing to submit, arguing that they were made as equals… and she was cast out of Eden to be replaced by a new woman named Eve who was made from Adams rib, and made to be compliant to Adam as his submissive wife.

and because of her defiance she was cast out and demonized by the patriarchy.

The 1st Creation Myth which justified the myth of Lilith as the first woman:
Genesis 1:26 – 1:30
Then the Elohim said, "Let us make man in our image, in our likeness, and let them rule over the fish of the sea and the birds of the air, over the livestock, over all the earth, and over all the creatures that move along the ground."

So the God created man in his image, in the image of God he created him; male and female he created them.

God blessed them and said to them, "Be fruitful and increase in number; fill the earth and subdue it. Rule over the fish of the sea and the birds of the air and over every living creature that moves on the ground."

Then God said, "I give you every seed bearing plant on the face of the whole earth and every tree that has fruit with seed in it. They will be your food. and to all the beasts of the earth and all the birds of the air and all creatures that move on the ground– everything that has the breath of life in it– I give every green plant for food." and it was so.

Two Interpretations of the 1st Chapter of Genesis:
The Androgynous Adam:
There was a controversy over the fact that there are two versions of the Creation myth in Genesis, where in the first chapter Man and Woman were created together. but in the 2nd chapter of Genesis Man came first and then came Woman out of the rib of man. Now this controversy spawned many interpretations. One of those interpretations was that Adam was created as a Hermaphroditic entity being of both male and female sex in one body just like Baphomet and the REBIS of Alchemy, the perfected human form. and that in chapter 2 when it is said that Eve is created from the rib of Adam, that what was meant is that the two sexes of the Hermaphroditic Adam were separated into two sexes.


When you read the 2nd Chapter and see how it ends its actually pretty clear that the Old Testament, adopts an old Greek myth of the first creation of man. It was once believed that Zeus created man as a creature with 4 pairs of arms, and 4 pairs of legs with 2 heads, and 2 sexes. It was said that Man was so powerful in this form that it frightened the Gods. So Zeus threw down a thunderbolt splitting mankind in two, forever separating the 2 parts.

Ever since mankind has wandered the earth, forever longing to discover their other half… in hopes to feel complete. and this is why humans lust for each other.
The First Woman:
The second interpretation which is also very popular, is that the Elohim created 2 people a Man and a Woman. Who where called Adam and Lilith. Although this part of the Myth is not written in the old testament, it is offered in Jewish lore as an explanation for why there are two creation myths for the origin of Woman.

The modern Lilith legend is presented in the Satirical work by an anonymous author, in the Book "The Alphabet of Ben Sira". Which explains, that in the beginning Adam has a wife before eve who was made of the same clay and earth that God used to create Adam. and one day it was time for them to consummate their marriage. Adam plead to Lilith that she should take the Submissive position in sex. But she argued that Adam should take the Submissive position in sex.

They could not come to an agreement and Adam took his complaints to the creator, who agreed with Adam that Lilith should submit to Adam in consummation. Lilith reacted hysterically feeling betrayed and argued with the creator about taking sides, and went on a tirade about how they were created as equals and that no one should have to submit. She wouldn't stand to reason, and before anyone could say anything Lilith turned to the edge of Eden and spoke the True Name of the creator in the right pronunciation (which was said to grant magical power to anyone who spoke it) and she turned herself into a Strix (a creature that is part bird and part woman) and she flew out of Eden vowing to never return.


The Creator sent Three Angels (Senoy, Sansenoy and Samlegot ) to go out and find Lilith to bring her back to paradise. They found her by the Red Sea, and plead to Lilith to return to Eden. But she refused and vowed to never return. She swore to kill all the descendants of Adam. The Angels managed to get Lilith to agree to a compromise, whereby one hundred of Lilith's children would perish each day… but she would be powerless to touch any children protected by the names of those Three Angels. 

(It should be noted that prior to the Alphabet of Ben Sira, Lilith was a very well known and feared demon within Jewish oral folklore and superstition. Even though she was never mentioned in their scriptures before Ben-Sira, she was a feared demoness in the oral tradition. Which is why the Satirical nature of this book has been controversial since its debut and receives much criticism even today by Jewish scholars.)


Some scholars of Mesopotamian study of history and lore, have professed that the concept of Lilith emerged out of the Sumerian myth of the Demon known as "Ardat-Lili." Ardat-Lili is described as an unsatisfied virgin who has never known the pleasures of love, and who represents virgins who died before having a chance to marry or have children. To compensate for this she attacks young men, and tries to marry them or break their marriage. But she also attacks young women of a marriageable age in order to subdue them to their own desire.

This creation of Lilith is combined with traits of the Demon Goddess Lamashtu who's story is reflected in the Lilith Legend. Lamashtu was the daughter of the God of Heaven known as "Anu" and was the sister of the Goddess of love Ishtar. When she expressed a desire to feed on flesh, Lamashtu was banished from the Heavens. As a result she had to find food herself. Out of rage she started to fight against the divine order, by attacking innocent people, but favorably targeting Pregnant women, young mothers, babies and young children, although no one was safe. She would disguise herself as a midwife for easy access to her prey. Who she would kill by poisoned breast milk or strangulation. Her presence is said to cause symptoms of Fever, Jaundice, Diarrhea, Apatite-loss, Abdominal Distension, and Typhoid Fever.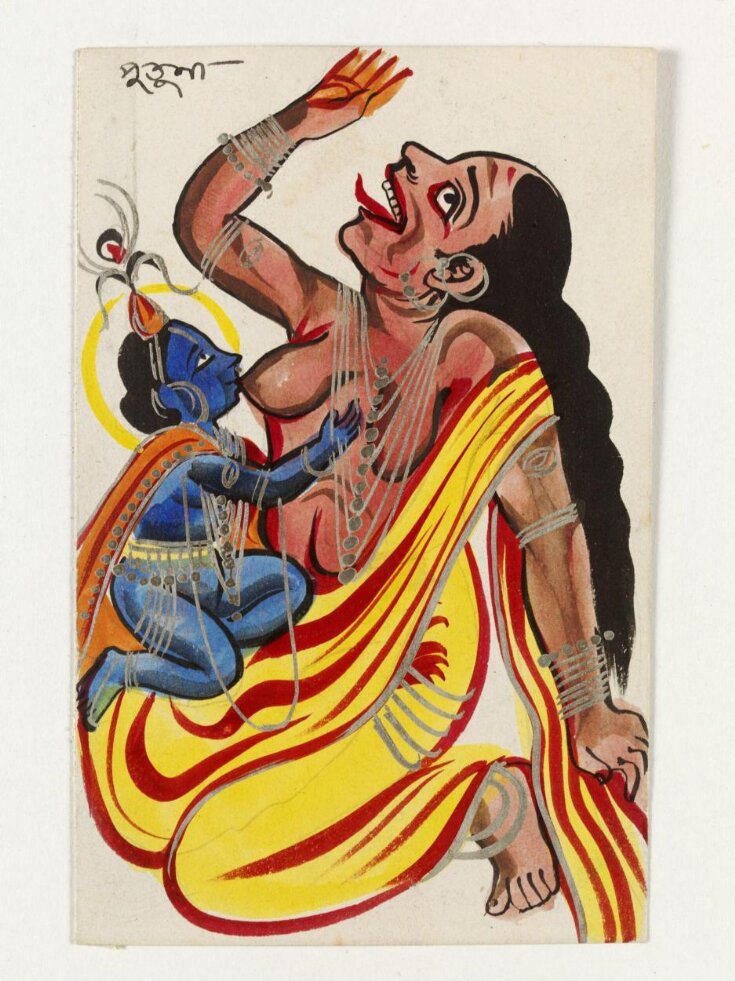 Another part that ties the legend of Lamashtu and Lilith comes from her use of the Magic of true names.
Lilith and Lamashtu have a demonic enemy by the name of Pazuzu. When Pazuzu was a younger demon he was very trusting of other demons and kept his guard down. Lamashtu seduced Pazuzu and they became lovers… But this was just a ploy to trick Pazuzu to revealing to her his true name. Lamashtu challenged Pazuzu by saying that if he was truly powerful, then there would be no harm in revealing his true name, no one could wield power against him. Pazuzu being arrogant in his ways fell for Lamashtu's trick and she immediately turned against him; Lamashtu tried to use the magic of his true name to take over the realm of Pazunia and render Pazuzu powerless.

(Pazunia: the first layer of the Abyss which was named after Pazuzu the Son of Hanbi, the king of the demons of the underworld, and brother to Humbaba, the demon-god protector of the Cedar Forest in The Epic of Gilgamesh.)

Lamashtu's plan was unsuccessful and she incurred the Wrath of Pazuzu who lured Lamashtu to the 503rd layer of the Abyss known as Terremor (a claustrophobic realm too tight for Lamashtu's form where she was at a great disadvantage.) there they engaged in combat; Pazuzu let Lamashtu believe that she was in control of the fight, but then he dove into Lamashtu's mouth as if he had been defeated. But then Lamashtu felt the agonizing pain of her teeth being ripped out of her jaw. Pazuzu reemerged and used her teeth to carve through Lamashtu's skull and tear out her eyes. He then condemned her to an eternity in Terremor for her betrayal and resigned himself to Pazunia.

From that moment on they remained bitter enemies forever.
Worshipers of Pazuzu would wear Amulets with his face and carve statues of him to protect their homes, babies, children and pregnant women from Lamashtu's wrath.

The Same way that the Jew's wear protective Amulets to ward off Lilith bearing the Names of the 3 Angels that cursed her.

The hysterical nature of Lilith's Tirade could also have origins from the Assyrian storm demon known as Lilitu.
"Lilitu" was originally a Female Storm demon, that later became the Prototype for a Succubus Demon, who would prey on men at night, and assault pregnant women and babies. The Male counterpart to the Lilitu spirit was called the "Lilu"
which is now known as an Incubus.

When I grew up hearing the legends of Lilith, in the version I was told Lilith was pregnant when she left the Garden of Eden, and she approached a cave near the Red-Sea and gave birth to a baby which was Adams, she took the baby by its ankles and smashed it's head on a sharp rock in front of the cave before she entered. When she went inside the cave she meets the demon ASMODEUS, who offers his protection and allegiance. Lilith marries ASMODEOUS and becomes the mother of all Demons.


Lilith unlike Eve was never cursed to have long and painful pregnancies. She could bare many children in a day as was the blessing bestowed on her upon her creation to be fruitful. She also retained dominion of the Creatures of the Air, and Sea, and the creeping things, and all the beasts of Nature.

Some speculate that Lilith's hatred for Adam and for Eve and all of their Progeny, combined with her Ability to shapeshift… that it was her who entered the garden in the form of a snake to tempt Eve into eating of the forbidden tree. It wasn't until then that Lilith was truly cast out of Eden. Along with Adam and Eve who no longer had dominion over beasts. But Lilith still does. This is possibly why in old medieval depictions of the Snake in the Garden it was depicted as being part snake and part woman.



Kabbalistic accounts suggest that there is more than one Lilith; Lilith Major being the 1st wife of Samael
and Lilith Minor being the Wife of Asmodeus. Some say that Lilith is the female aspect of Samael. A friend of mine who is a Demonolater told me the story of how Lilith was Married to Samael, and they had many demonic children until Yahweh castrated Samael to ensure that they can produce no more children. To which Lilith fled and abandoned Samael to find a new mate, and became a succubus stealing the nocturnal emissions of men as they slept. For this reason my friend has a hatred for Lilith lmao.
I've also heard stories that there was a time when Adam and Eve separated from each other for 100 to 600 years or maybe longer. and "Naamah" (Liliths Succubus Sister and the 2nd wife of Samael) both tempted Adam against his will and bore him many demons, and spirits and Lilin's (Night Spirits). Some stories suggest that Lilith even predates Adam and the events of Genesis, which leads me to believe that Lilith is not a name but a classification of spirits of Mesopotamian lore. (Like that of the Lilin, Lilitu, and Ardat-Lili.)

In the Latin Vulgate Lilith's name is often Translated as "Lamia" which is a Greek and Roman mythological creature which is described as the Mother of all Monsters just like Lilith is. In the myth Zeus has an affair with a Libyan Queen; when the Goddess Hera learned of this affair, she cursed the queen with madness and a cannibalistic bloodlust which drove her to devour her own children. Hera cursed lamia to never sleep, so that she may walk the earth eternally mourning her children. She took refuge in a dark cave and became a hermit, but the madness and hunger and grief transformed Lamia into a great beast, taking the form of a half serpent half woman. She would kidnap and devour children so that other mothers would feel the same grief and pain of losing her own children. She could remove her eyes, and had the gift of prophecy and became a sorceress. all things that Lilith herself is associated with. (The Removal of the eyes is also a Lamashtu thing, remember that time Pazuzu carved out her eyes with her own teeth? Lamashtu is also associated with Sleeplessness.)
When you look at the history of Lilith and her many incarnations, there is not a single moment where her reputation as an evil demonic entity isn't earned. She worked hard to be evil, and her reputation had nothing to do with being misconstrued like in the case of Mary Magdalene who was wrongfully labeled as a Prostitute.

Even as a Goddess she was not a benevolent Goddess, and has never been an ally to women or children and the concept of fertility.

Lilith is not a symbol of female empowerment. She is a representation of Toxic Femininity of the worst kinds.
She's is not the loving and nurturing mother, but the mother who hates and envies the children for the affection that they earn from others. She is the neglectful mother, and the murderous mother who drowns her children, or strangles them or abandons them at the grocery store. She's the homewrecker, who breaks marriages. She's the Karen who can't stand to see anyone happy. She is manipulative, abusive, controlling, slanderous, disloyal, unreasonable, and cruel without limit.

All of these toxic traits are reflected in her story in every incarnation. its the same every time. She targets fertile women, pregnant women, babies, children, and vulnerable young men. She is responsible for phenomenon's such as miscarriages, sudden infant death syndrome (SIDS), post partum depression, difficult pregnancy's, maternal death during childbirth, still-born infant death, blood-clot deaths, post traumatic stress disorder (PTSD), ovarian cyst's, and any other infection associated to the female anatomy and gentiles. She is the anti-fertility goddess, and it wouldn't be much of a stretch to say that she is probably associated with venereal diseases (STD's) and Infertility.

It should be pretty clear at this point that Lilith worship is probably not a very smart idea.
and Re-imagining her as a Benevolent Goddess who was demonized by the Patriarchy is not good for anyone. and actually has lead to many problems in todays world concerning the relationship between men and women. It has also led to the loss of sensuality, and the ability to be a nurturer and maternal figure in many young women today.
I Recommend Maha-Kali-Ma as a Better Alternative:
I know that Westerners try to attribute the Iconography of Lilith to eastern deities. Such as Kali, but Kali is actually a much healthier icon for female empowerment that benefits all people and all sexes. Because Maha-Kali is fearsome because of love! The love she has for her husband Shiva, The Love she has for her Children, and her family, her relationships and her home, She becomes fearsome to protect everyone that she loves against the demons who seek to harm them. She represents the Stern and Strict mother who can be harsh and over protective, but is like that because she worries about you, and wants the best for you and from you.

Kali love's you with every fiber of her being.
While Lilith hates you with every fiber of her being.



Another Goddess who resembles Kali very much in her legend is the Egyptian Goddess Sekhmet. Who represents the archetype of the fierce mother, The Lioness. Just like Kali Sekhmet develops an unquenchable bloodlust while vanquishing the enemy's of Ma'at, and nearly destroyed all life on earth; Ra had to turn the Nile river into Red Wine, tricking Sekhmet into thinking it was a river of Blood, to which She drank herself drunk and passed out. Ra whispered a secret word into Sekhmet's ear, and she was transformed into the Goddess Hathor, the Goddess of motherhood. Thus becoming the fierce mother, who defends her children and her family.